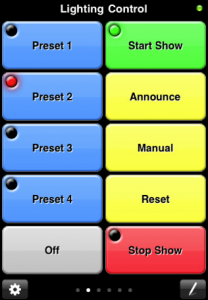 Do you own or operate a CueServer from Interactive Technologies? CueServer is a ethernet based lighting control board. Since it is network based, what limits you from controlling you CueServer from your iPhone?  Well, nothing now!
Interactive Technologies just announced the release of their latest product, the CuePad.  CuePad is a remote control of sorts that connects to you CueServer via a WIFI access point or for you more network savvy folks, through 3G or Edge.
Here is a little bit of what the CuePad can do.
With CuePad you can create up to 12 pages of 10 customizable buttons. Each button can operate as a remote CueServer button trigger or it can run a CueScript macro. CuePad can provide "live" LED indicator feedback on the buttons as well.
Use CuePad to create handy button interfaces for your CueServer applications.  Give homeowners the ability to control their lighting from their favorite mobile device.  Stage and Studio technicians can use CuePad as a remote control for their lighting rigs.  Trade Show and Museum users can use CuePad during product demos or walk throughs.  Most any CueServer application can be remotely controlled via CuePad.
CuePad is a $9.99 download from the iTunes App Store.  You can learn more about the app from Interactive Technologies web site, www.interactive-online.com.
UPDATE:
I found a quick YouTube video showing off how CuePad works.

Share

Comments