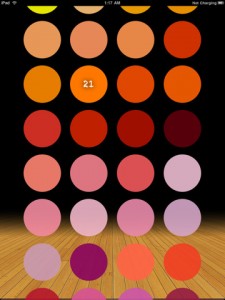 Here is a new and different type of iPad lighting app, Stagehand for iPad.  Stagehand provides a quick and clean way to browse Rosco's Roscolux catalog of gels. Gels are laid out in a visual grid, and gel numbers are disclosed only when you need them by tapping and holding the gel in the grid.
This is a new and different way of comparing gel colors.  Rather then looking at colors with their names and numbers, you look at just the color to determine with one you like best.  It kind of reminds me of that memory game where you try to locate two of the same items hidden below the dots. It's an interesting way of searching colors.
I think it may be a little limiting since it only shows Roscolux gels. I would love to see some of the other manufacturers listed.  Overall though, a great starting off point.  Who knows, in future updates, we may see additional gel manufacturers.
Patrick Angle, the developer of the Stagehand iPad app warns that the colors may not be 100% accurate to those on stage, but are relativity a close match. For best the best representation of the gel colors, be sure that your screen brightness is set to the highest possible level, as gels will appear washed out on lower brightness settings.
Stagehand for iPad is a FREE download from the iTunes App Store.
Share

Comments