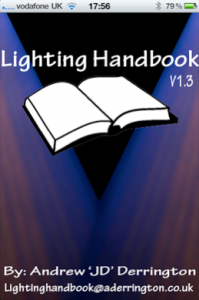 Start up the app store on your iPhone, there are some more lighting app updates.  Andrew Derrington just announced his latest update to his Lighting Handbook App, version 1.3. Not only did Andrew update the app for iOS4's multitasking support, ha also added and update a huge list of items.
New Features:
• Increase in manufacturers to 31!!
• Over 500 fixtures/Consoles/Effects.
• A redesigned detail view.
• 2 New settings – Ability to automatically save manuals when viewed and ability to view power consumption in Amps.
• iOS4 multitasking support.
• Now after you've downloaded a manual, the detail page for that fixture will have a small green tick on the manual button, this means you've downloaded the manual and that it will load from the device and not from the internet again.
• Lighting Links within the general information section provide links to popular web-sites and forums as well as the blog for Lighting Handbook.
• Most consoles now also have a quick start guide.
• You can add your own manuals via iTunes.
The Lighting Handbook App is just $4.99 from the iTunes App Store.  For those that already own it, it is a FREE update. Check out the full listing of items and manufacturers listed in the app along with details from Andrew's web site, www.aderrington.co.uk.
Share

Comments