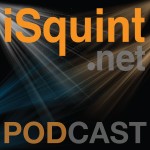 In this, the 12th episode of the iSquint Podcast, I am joined by some heavy hitters in the industry to follow up and talk about the 2010 LDI Show in Las Vegas Nevada.  Joining me on the LDI 2010 Post Show Podcast is Mr. Michael Eddy from Eddy Marketing and Consulting, Mr. Richard Cadena, The Electron Wizard and Editor of PLSN Magazine, Mr. David Schraffenberger, General Manager of Production Advantage and finally, but certainly not least in any way, Mr. Jacob Coakley, Editor of Stage Directions Magazine.
We ditched the last hour of the show and headed over to the PRG meeting room to sit down and have an open discussion about all of the latest and greatest products that we viewed on the show floor.  We lingered on the subject of LEDs for a while.  We had to put that subject to rest as we could have been there for 3 days just talking about LEDs.  We also covered some of the new control, rigging, video and motion control products.  There was just not enough time to cover everything, but was certainly nice to get other opinions and gather together to see what each of us missed.
Couple of HUGE thanks to give out.  Of course, thank you to you gentleman for joining me on the podcast!  It is always a pleasure to be in your company.  Thank you to Production Resource Group, (PRG) for allowing us to take over a small corner of your meeting room to record the podcast. And last, thank you to The Swingin Johnson's Band for allowing me to use part of their song, Playthang in the podcast. I love you guys!
iSquint Podcast
Share

Comments