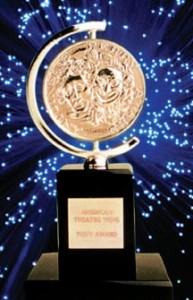 That's right, after a nice long break and pilling up more and more swag to give out, the Tuesday Twitter Trivia is back!  This week is a special Tony Award Trivia question. First, I would like to congratulate ALL of the nominees and of course the winners of the 2010 Tony Award in the categories.  A special shout out goes to Kevin Adams, the lighting designer of American Idiot for winning Best Lighting Design of a Musical and Neil Austin, the lighting design or Red for winning Best Lighting Design of a Play.  Although I have not seen either show, I have heard that the Tony's are well deserved!
And now on to this weeks Tuesday Twitter Trivia…
Who has racked up the most Tony Awards during the course of their career?
Have the answer? Submit your answer via a reply to @isquint via Twitter. The first person back with the correct answer wins some great swag that I have been collecting from previous events and trade shows along with an iSquint button.
Share

Comments