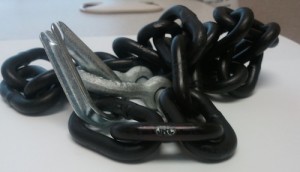 We have all been there. We have needed to rig something to hang and had to use some trim chain. But the standard trim chain is a shiny silver surface so we had to spray paint it black to help mask it. Talk about time consuming!
JR Clancy has heard your cries for help and has introduced AlphaChain. It is designed specifically for theatrical and entertainment rigging. At first glance you'll see the difference between AlphaChain and regular trim chain… AlphaChain is black!
Key Features of AlphaChain:
Black chain eliminates glare and reflection
Hardened alloy chain, meeting OSHA requirements for sling usage, OSHA 1910.184(e)(5)
3.250 lb. working load limit (based on manufacturers 4:1 safety factor)
7mm chain
used with standard 1/4″ hardware
Marked with JRC on every link
Date code on every 10th link for traceability
There are three options when ordering the AlphaChain from JR Clancy
36″ Black Trim Chain with 5/16″ shackle and 1/4″ thimble (015-1191B)
36″ Black Trim Chain with 1/4″ shackle and 1/4″ thimble (015-1192B)
36″ Black Trim Chain with 1/4″ shackle and 3/6″ thimble (015-1193B)
Learn more about JR Clancy's AlphaChain by visiting their web site at www.jrclancy.com.
Share

Comments