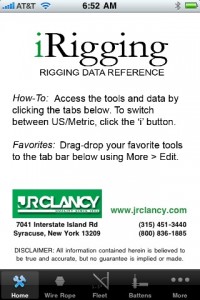 Looks like JR Clancy just updated their iPhone app, iRigging.  The first noticeable difference is the lacking of the Metric version of the App.  When JR Clancy first released their iRigging app, they had two versions, one for Metric conversion and one for imperial conversion.
Well, with the new update to iRigging, JR Clancy combined the two version into one.  So rather then having to choose or switch between the two version of the app, you can now quickly and easily change from Metric to Imperial by clicking the information i on the top right of the app.
JR Clancy also added the ability to pull your favorite or most used portions of the app down to the black bar at the bottom of the app for quick reference.  You can still access all of the other conversions and sections of the app under the more button on the right.
The iRigging App from JR Clancy is still a FREE download from the Apple iTunes App Store. To learn more about rigging and what JR Clancy can offer you, visit their web site at www.jrclancy.com.  While on their site, besure to sign up for the Rigging Report email!
Share

Comments