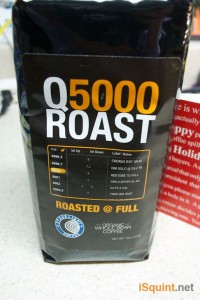 I love arriving home to find packages on my door step.  The best ones are those that I didn't expect!  Everyone loves opening up a present, even an envelope with a hand craft note saying someone is thinking about you.  Yes, Olivia, my birthday card still takes center stage on the fridge and I smile every morning I see it.
Enough about my sappy ways… I have to hand it to Stagelight.  First, they get me a present, which you guys really didn't have too, but it is so appreciated! Second, they got me right in my coffee loving heart. They sent me their SELF BRANDED coffee, Q5000 Roast.
Just from the front package, it looks awesome!  Then reading the description on the back: "When you've programmed 5000 cues, it's time for a special coffee…", thus Q5000. I love it! So creative!
After a bit of laughing and just pure glee of receiving such an awesome gift, I noticed the front… It's a cue stack! And guess what the label/Note is for Q5000 – RESTORE TO FULL. AWESOME, I love it! Of course, it is Roasted @ FULL, yet another delightful pun!
This is a huge shot out and thank you to all of you at Stagelight for putting a twinkle in my eye this holiday season! Thank you so much! Happy holidays and a bright New Year to each of you.
Now for a bit of plug… Want to try Q5000 Roast out for yourself?  Stagelight has the coffee in stock and available on their web site for $11 USD for 16oz of whole bean coffee.  Stagelight also has another blend, Focus Blend at the same, $11 USD for 16oz of whole bean coffee.
Share

Comments