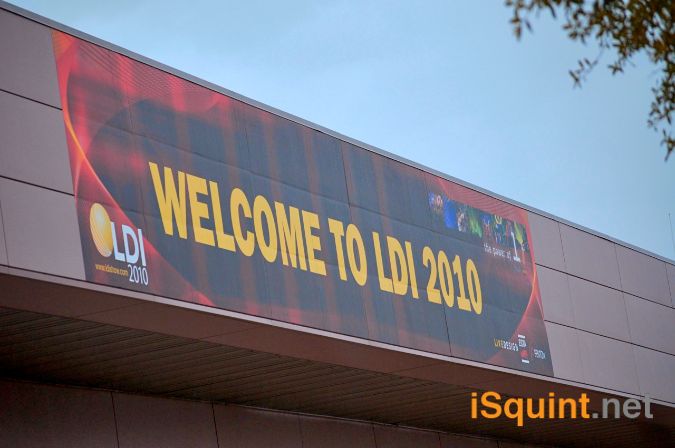 Hello #2amlx. It is actually 2:43am here in Vegas and I finally have time to breath. Today has been an amazing day. And I wish everyone was here to share in the lighting awesomeness that filled the Vegas air today.  Today was catchup and see old friends and meet plenty of exciting and new friends. After walking the floor a couple of times to get a lay of the land, I am blown away just how much awesome gear there is out there for us to use.
It always seems that 3 days on the show floor is not enough. I get that same feeling each time I start walking a show floor. This time is no different. As we move on to day two tomorrow, that feeling will quickly subside.
After the quick run through the show floor today, the thing that stuck out in my head was the amount of LEDs out there and how far they have come. Some feel that LEDs still have a ways to go, but compared to last years LEDi, they are improving more and more as time progresses. More on that in a bit.
I had to leave the show floor early to head over to the Rio for rehearsal for the Parnelli Awards were I presented the Video Awards with he super awesome Jeanette Farmer, COO of Fisher Technical Services. Jeanette and all of the crew from Timeless Communications, the publisher of FOH, Stage Directions and PLSN magazines made me feel right at home and are some super awesome people to hang out with.
After the Parnelli Awards was the "Industry Party" at 4Wall Lighting's spare Warehouse WAY away from the strip.  This is my second 4Wall Party and it was even better then the 4Wall DC Party! Sorry John & Scott, there was a live band, the Swinging Johnson's.  I'll have more about the 4Wall Party in a bit.
Over all feeling of day 1 of LDI 2010, I LOVE THIS INDUSTRY. I have meet some amazing people, seen some great gear with even more to come in the next two days. Stay tuned!
Share

Comments