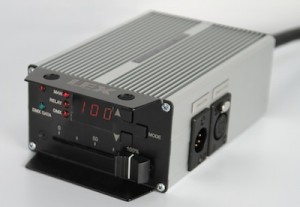 Lex Products has added DMX512 support to its popular Slim Dimmer line of compact 1.8kW dimmers in the form of the Slim Dimmer Plus. Designed specifically for television and film location work, as well as theatrical and event dimming, the rugged Slim Dimmer Plus is tough enough to survive in a production and rental environment.
With DMX capabilities, the Slim Dimmer Plus can also be used as a part of a larger dimming system, as well as being able to operate in a standalone mode with local control through a high quality fader on its face. It can also compliment any full lighting package, providing users with that "just one more dimmer" capability. Compact enough to be added to a lighting kit case, backpack or toolbox, the Slim Dimmer Plus is a must have addition to the kit of every serious gaffer and freelance lighting technician.
Whether it is just one dimmer or just one more dimmer, the new Lex Slim Dimmer Plus 1.8kW dimmer will provide new dimming capability for small lighting projects in a variety of applications.
The Slim Dimmer Plus is debuting at LDI this week in Las Vegas. See it in the Lex Products booth 2020.
Share

Comments