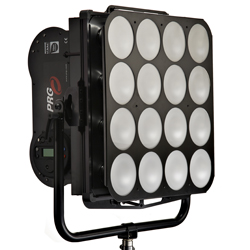 LDI is going to be hoping this year.  Seems like everyone is set to release, announce or preview something at the show!  PRG has a hand full of products that they will have on display at their booth this year.  Two things that I am siked to see are the V476 desk and their new OHM LED fixture.
The V476 is a smaller version of the popular V676 console, it has three on board touchscreen monitors, one external touchscreen and a Channel Select panel. The encoder and fader counts remain the same between the two models. The V676 control console, used this past year on the Vancouver Olympics, multiple television awards shows and on Broadway, will also be demonstrated.
The other thing that I am jazzed to see is the PRG OHM Light. The OHM is an LED-based, color temperature adjustable spacelight which can replace traditional spacelights on a 1-for-1 basis, drawing only 8-amps versus 42-amps for tungsten spacelights. It uses an array of 16 LED emitters featuring Gekko's award-winning kleer colour® technology that has both optical and thermal feedback. The OHM can be controlled locally or remotely via DMX, doing away with the need for dimmers and heavy Socapex cables. The color temperature and light levels can be set—and changed—instantly at the touch of a button. The OHM provides significant savings of power, time and HVAC for any film or television production.
Of course PRG will also debuting the PRG Bad Boy CMY® automated luminaire with color crossfading technology. Allowing designers to fade between colors easily and simply while still having all the features, including the superior optics and precision movement that have made the PRG Bad Boy an industry-wide success.
Share

Comments