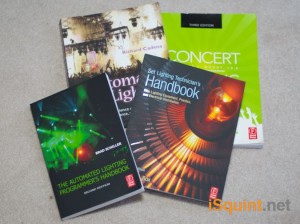 Add this to your calendar now. Saturday, October 23rd from 2:30 to 3:30, the authors of some of the latest lighting books from Focal Press will be on hand at the ESTA booth, (1247) sign copies of their books.
Steve Shelley ("A Practical Guide to Stage Lighting, 2nd Edition"), Brad Schiller ("The Automated Lighting Programmer's Handbook, 2nd Edition), Paul Dexter (co-author with Jim Moody of "Concert Lighting, 3rd Edition), Harry Box ("Set Lighting Technician's Handbook, 4th Edition"), and Richard Cadena ("Automated Lighting: The Art and Science of Moving Light, 2nd Edition) will all be on hand sign copies of their books.  Don't have a book? No problem, pick one up at the show and have them sign it right there on the spot.
Looks like I'll be there as I seem to have missed placed my Steve Shelley book, A Practical Guide to Stage Lighting.  I MUST have loaned it to someone and forgotten to get it back.  Please don't be made at me Mr. Shelley.  I'll pick up another copy, I promise!
Help support Behind the Scenes! Buy your book and get it autographed at LDI. I'll be right there in line with yea!
Share

Comments