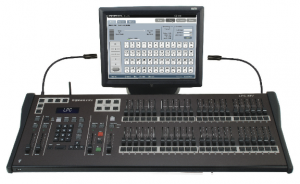 Last year at LDI, Leprecon introduced the LPC series of lighting desk.  This year, they are planning to make an announcement about the software update to the LPC series with moving lighting controls built in.
The LPC is on the "low tech" end of the console spectrum with the ability to handle 2 universes of DMX and 512 control channels.  From what I have heard and seen about the console, it is pretty flexible for it's price point at just under $6,000 USD for the LPC-48V and $7,600 for the LPC-96V both provided with a touch screen.
The desk is designed for the HOW, community theatre, high school, middle school markets but are defiantly not limited to those.  I have got to get behind the new software/desk and give it a test drive!
Learn more about the Leprecon LPC Series of console by visiting www.leprecon.com.
Share

Comments