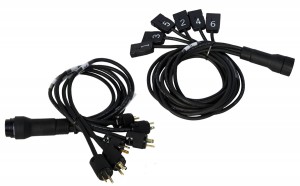 Lex Products has announced the addition of molded 6 -circuit Break-Ins and Break-Outs to its recently launched EverGrip™ line of Multi-Cable Assemblies. The cable assemblies feature Lex  Socapex compatible connectors which go through two separate molding processes to ensure they can stand up to the most demanding stage and studio applications.
The core of EverGrip™ is a polypropylene pre-mold which provides a mechanical bond between the cable and connector and totally encapsulates the contacts and conductors to prevent the possibility of pushed pins, broken conductors and damaged ground rings. A solid Santoprene™ over-mold absorbs impact to protect internal conductors and provides enhanced flex and strain relief to extend cable life.Lex offers a 5 year limited warranty on LSC19 molded male and female connectors.
Break-Ins and Break-Outs are offered with a variety of Edison straight blade, NEMA locking, or Bates® connectors, including 5-15, L5-20, and L6-20 configurations. Standard lengths include 3FT, and 6FT. Staggered and custom cable lengths and connectors can also be specified.
To learn more about the Lex Break-in and Breakout EverGrip series, visit their web site at www.lexproducts.com.
Share

Comments