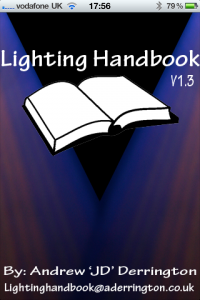 Andrew Derrington, the App Developer that brought us the Lighting Handbook App informed me that today is the apps one year anniversary of being in the app store.  Congratulations Andrew, that is most excellent news! To help celebrate the first anniversary, Andrew is having a one day sale on the Lighting Handbook App. Today and today only, you can save 60% off the original price of the app.  Today and today only, you pay just $1.99 USD!
Here is some additional information about the Lighting Handbook App:
Lighting Handbook is a tool for all theatre, corporate and event technicians.  It displays information on over 500 moving lights, Dimmers, Conventional fixtures & effects:
Weight
Power Consumption
Data Connection types
Light Output (According to manufactures manual)
Colour wheels/Mixing
Gobo Wheels
How many DMX Channels and in what mode
Beam Size
Lamp type
The current release brought:
Increase in manufacturers to 31!!
Over 500 fixtures/Consoles/Effects.
A redesigned detail view.
2 New settings – Ability to automatically save manuals when viewed and ability to view power consumption in Amps.
iOS4 multitasking support.
Now after you've downloaded a manual, the detail page for that fixture will have a small green tick on the manual button, this means you've downloaded the manual and that it will load from the device and not from the internet again.
Lighting Links within the general information section provide links to popular web-sites and forums as well as the blog for Lighting Handbook.
Most consoles now also have a quick start guide.
You can add your own manuals via iTunes.
What are you waiting for?  Head over the to the iTunes app store and pick up your copy of the Lighting Handbook App for just $1.99 for today only! You can read more about the app on Andrew's website, www.aderrington.co.uk.
Share

Comments