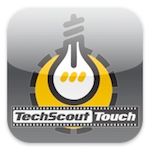 Do you create a lot of equipment list and shop orders? Guess, what, there is an app for that!
TechScout Touch is designed for lighting professionals in the Theatre, Event, Movie, TV, Commercial, and Video production, almost anyone that needs to rent lighting equipment. The app helps you create lighting rental orders intended to be submitted to rental houses or to studio set lighting departments. Featuring a simple interface, you can easily include job, date and production information. Adding equipment is a simple process using the over 1000 lighting equipment items separated into categories and sorted by type and wattage. The end result is a professional, organized equipment list ready to be emailed to anyone.
Notable features:
Over 1000 professional lighting products included
No typing of equipment names, just tap quantity.
Email orders to your Producer, DP, Gaffer, BestBoy, Rental House, and even yourself.
Refer back to an old order for reference.
Customizable gear lists
Add optional notes
The TechScout Touch iPhone app is a FREE download from the Apple iTunes App Store.  To learn more about the app, visit the developers web site at www.litegear.com.
Share

Comments