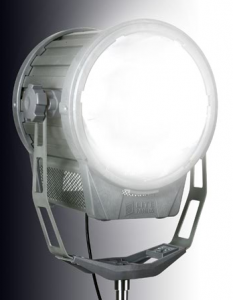 I've got to take this one right from the Press Release:
Litepanels, A Vitec Group company, brings the Fresnel into the 21st century with the new Sola series. Offering beam control of 70° to 10°, the revolutionary new Solas provide the controllability and single-shadow properties inherent in a Fresnel light, but utilize just a fraction of the power of conventional fixtures.
Like all Litepanels, Sola Fresnels feature instant dimming from 100% to 0 with no noticeable color shift. The SolaENG, designed for on-camera mounting, provides manual focus and dimming control via camera-like ergonomic controls. The Sola6 and Sola12 provide on-fixture manual control of focus and dimming via a convenient touch screen, and are also controllable via DMX. Output is fully flicker free, and remains consistent even as the battery voltage goes down.
Employing Litepanels' ultra-efficient LEDs, Solas draw just 1/10 the amount of power to provide the same illumination of a conventional tungsten Fresnel, with very little heat generation. The cool-to-the-touch feature of LED lights doesn't just cut down on air conditioning requirements. Since they don't require the heat dissipation and protection necessary for conventional Fresnels, the Solas weigh only 1/3 as much as their HMI and tungsten predecessors. What's more, they have no external ballasts. The fixtures have a universal AC input and can be used on any consumer power source in the world.
Want to learn more about Litepanels new Sola Series of products? If you are in Las Vegas this week for the NAB show, make sure to stop by Litepanels booth at #C6025. You can alos find more information on Litepanels website at www.litepanels.com.
Share

Comments