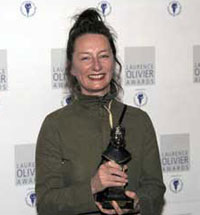 Rob Halliday, a new friend and fellow Lighting Design and  writer let me in on a little known web site yesterday.  The site is a journal of Mrs. Paule Constable, a leading lighting designer out of the UK.  You may remember Mrs. Constable winning the 2009 Laurence Olivier Award for Best Lighting Design for her design of The Chalk Garden.
Mrs. Constable's next project is Andrew Lloyd Webber's sequel to The Phantom of the Opera, Love Never Dies at the Adelphi Theatre in London.  Mrs. Constable started a blog on her website, pauleconstable.com detailing her experiences while designing the show. This is a rare look into the design process of a large Broadway type show that we almost never hear about.
I encourage you to take a look and follow Mrs. Constable's design process with the show.  Mrs. Constable just started writing about her experiences this month, but as the process continues, I am certain she'll keep us up-to-date.
You can learn more about Andrew Lloyd Webbers latest show, Love Never Dies by visiting the show's web site at www.loveneverdies.com. Previews for the show start February 20th and Opening night sometime early March.
Thanks Rob!
Share

Comments