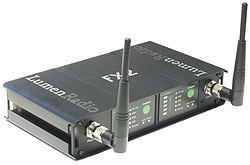 It is a real shame that Lumen Radio is no longer distributed in the United States due to a law suite that is currently underway.  I had a brief time with the wireless DMX products from Lumen Radio and was pretty impressed with it. The ease of use, the design, the software, I loved it all.  But that is all another story.
Next week at the PLASA Show in London England, Lumen Radio will be introducing their latest wireless DMX device, the CRMX Nova Flex and CRMX 2.4/5.8 GHz Cognitive dual band. The design of the CMRX Nova Flex is for the demanding lighting professional who wants one configurable wireless product that can handle any application and environment. The CMRX Nova Flex has the ability to support Ethernet protocols such as Streaming ACN, ETCNet, ShowNet and Art-Net.
LumenRadio is making CRMX 2.4/5.8 GHz Cognitive dual band available as an option across all CRMX product lines. While most users are satisfied with the standard single band 2.4 GHz CRMX Automated Cognitive Coexistence, Lumen Radio decided to add optional dual band operation for those applications that require exceptional performance and reliability. The option comes in the form of a module that at any time can be added to any new or existing CRMX product.
Learn more about Lumen Radio and their products by visiting their website at www.lumenradio.com.
Share

Comments