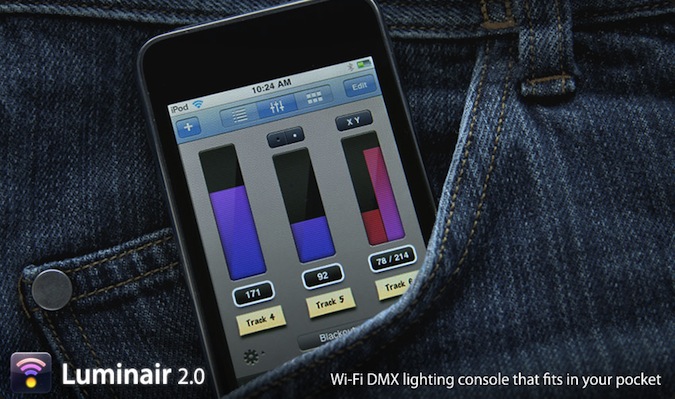 With the upcoming release of Luminair Version 2.0, Synthe FX and iSquint.net have teamed up to have a Release Party and Contest right here on iSquint. If you didn't know, Luminair is the first lighting console that fits in your pocket.  Which brings up the question… is that a Lighting console in your pocket or are you happy to see me?  But really, Lumniair is a fully functional lighting console that works on your iPhone and iPod Touch over Wi-Fi.
Synthe FX has just announced the release of Luminair version 2.0.  V2.0 brings a ton of new updates and functionality to the console in your pocket with Stacks, which is a cue-list playback system, integration with Cast Software's next version of WYSIWYG, R25 and Fixture POV, as well as groups, cut/copy and paste functions to name a few.
In anticipation of Luminair V2 being released in the iTunes App Store, Synthe FX and iSquint are holding a week long release party and contest here on iSquint. Each day this week, we will be selecting one winner at 5pm EST that will win a $15 dollar iTunes gift card.  Fridays grand prize winner will be receiving at $50 iTunes gift card from Synthe FX. The iTunes gift cards can be redeemed to purchase anything from the iTunes store, Music, Movies, TV Shows and yes, it can even go towards your purchase of Luminair, V2.0 once it is released.
How do I join in on the Release Party and Contest to win?  Simple, add a comment to this contest page with your name, email address, (which will NOT be public or sold) and a comment, that's it! One entry enters you for the entire week so enter soon for more chances to win.  Entries are limited to US residence due to iTunes restrictions, Sorry.
Luminair V2.0 is a free upgrade for current owners of the software and will be available as a free download from the iTunes App Store.  New users can purchase a copy of Luminair for $99 USD.  To learn more about Luminair and Synthe FX, Visit their website at www.synthe-fx.com.
UPDATE:
Listed below are the daily winners of the Synthe FX and iSquint Luminair Release Part and Contest.  Remeber, one entry gets you in for all week long. If you didn't win today, you still have the rest of the week fora chance to win!
Monday – John Hathcock
Tuesday – Todd Proffitt
Wednesday – Julie Shelton
Thursday – Nathan A.
Friday and the GRAND PRIZE WINNER – Tim Nielson
Thank you to everyone that entered as well as for reading iSquint.  I would also like to thank Synthe FX for having the Luminair v2.0 Release party and contest here on iSquint.  You guys rock!
Share

Comments