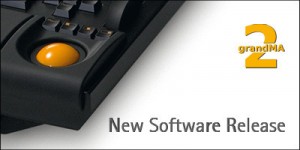 Ma Lighting just announced the release of grandMA 2 latest software update v2.0.0 [6.6].
Some of the new and updated features include:
Layout pool and layout view are implemented
MAtricks Implemented (new button in the encoder bar)
Auto create group/world/preset/channel pages implemented (setup/show)
Clone implemented (New hard key combination: press "copy" key twice)
New option "fast call" for sequence pool
"Dynamic Channel Fader" mode implemented
And many more.
To read all of the change notes and how they function, be sure to download the release notes available on MA Lightings website. The software update is available for the grandMA2 series of desk, grandMA series 1 of desk, MA 3D and MA VPU devices.  Head over to www.malighting.com to download the software update for you grandMA desks.
Share

Comments