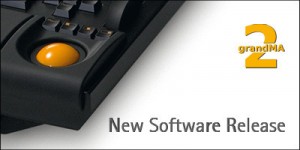 The gents in Germany are hard at work finalizing the series 2 software for the grandMA 2 series of desk.  MA Lighting just announced the release of version 1.9.0.6 [6.5] of the series 2 software. This means that they are getting closer and closer to releasing version 2.0 which should be the stable version of the software.
That being said, series 2 software is rather stable and pretty functional to run a show, just some things may still not work correctly.  If you own or are planning on getting a grandMA 2 series of desk, until the release of version 2.0, the production ready version of the series 2 software, you can still run the desk in series 1 software.  But give series 2 software a try when you have time, it's pretty freakin sweet.
You can find the release notes along with all the software for your specific desk and devices over on MA Lighting's web site, www.malighting.com.
Share

Comments