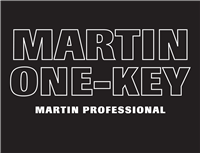 Martin Professional One-Key is a future-proof concept in lighting software distribution that eliminates the inconvenience of storing software licenses in DMX hardware. This simple USB dongle can store one or more licenses and protects the software from illegal copies.
Martin One-Key simplifies software distribution, improves protection and protects investments. All Martin Professional PC-based applications will eventually share this same protection method.
No longer will software licenses be stored in DMX hardware that becomes obsolete after a few years, or worse, becomes defective and renders the software unusable.
With Martin One-Key, adding new software is a few click process; no need to wait for a box to be delivered. In addition, Martin One-Key allows any user to try Martin Professional software for a 45-day trial period with full features.
Martin One-Key is currently bundled with the following products:
LightJockey 2™ Kit
M-PC-Basic  8™ universes Kit
M-PC Pro 64™ universes Kit
MSD5 Gold™
MSD5 Live™
MSD5 Live-4™
Furthermore, owners of Martin One-Key can order additional software applications by purchasing a software-only license.
LightJockey 2 (4 universe license code only )
M-PC Basic (8 universe max license code only)
M-PC Pro (64 universe max license code only)
MSD5 licenses through www.martinshowdesigner.com
You can read more about Martin's One-Key by visiting their website at www.martin.com.
Share

Comments