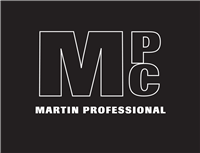 When you're on a roll, why stop!  I have to believe that is Martin's marketing departments mantra.  Martin is getting ready to launch their next PC based lighting controller, the M-PC series.  The M-PC Pro which replaces the original Maxxyz PC, includes all the features of Maxxyz PC plus all new features from the new M1 console.  In addition, the M-PC has been upgraded from 32 to 64 DMX universes over standard Artnet or using the Martin USB DUO DMX, making it some of the most powerful PC-based lighting software ever made.
For budget-oriented applications, Martin has released a new member in the M series of controllers with the M-PC Basic. M-PC Basic offers the same feature set as the M-PC Pro but can generate a maximum of 8 DMX universes.
Both M-PC Pro and M-PC Basic come with the MSD5 MC Edition 3D Visualizer and one Martin USB DUO DMX.
M-PC-Basic 8 universes Kit
M-PC Pro 64 universes Kit
In the same round of new releases, Martin also announces the addition of an M-PC 8 universes license to the Ether2DMX8 Artnet to DMX converter. Once connected to a PC, the Ether2DMX8 will activate the M-PC Basic.
Share

Comments