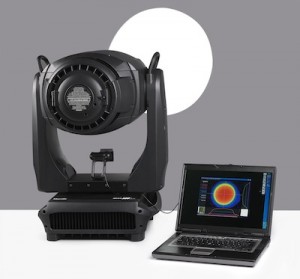 Take on web camera and Martin's New Fixture Beam Analyzer and BAM, bench focusing a fixture just got easier….maybe. Here is more from Martin.
Martin Professional's new Fixture Beam Analyzer (FBA) uses a standard webcam to analyze a lighting fixture's output on any surface, making lamp adjustments an easier and more accurate procedure for a more uniform field of light.
The FBA consists of software and a set of three dimming filters in various grades that mount directly onto a Logitech Pro 9000 webcam. Light output is measured and a set of detailed photometric data is generated in real time. The data illustrates the level of uniformity of a fixture's output, allowing users to easily view the effect of luminaire and/or lamp adjustments on the field of light.
Viewing the beam in greater detail on a computer screen allows for more accurate adjustments and eliminates the uncomfortable need to stare directly into the field of light. No more blurred vision and starry eyes after multiple lamp adjustments.
Not only does the FBA make for faster, more accurate lamp adjustments, it ensures a more uniform beam across multiple fixtures. More precise lamp adjustments also allow fixtures to run more efficiently and at maximum output.
The Fixture Beam Analyzer is a great benefit for rental companies who want to keep lighting fixtures performing at 100%, theatres who demand high quality output, or anyone who wants their lighting fixtures to perform like the day they left the factory. It is especially useful when lamp adjustments are needed following a lamp change.
The FBA is easy to use with no previous experience or training required. Any two users will get the same result, guaranteeing consistency in lamp adjustments for greater uniformity across fixtures.
Learn more about the Fixture Beam Analyzer (FBA) by visiting Martin's website at www.martin.com.
Share

Comments