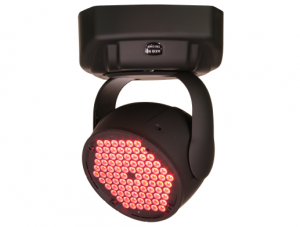 Mega Systems out of Texas recently announced the arrival of their latest product, the Axis Tri-LED moving head fixture.  The fixture packs in 90, 3 watt tri-color RGB LEDs in just 26 pounds total weight.  The Axis Tri-LED is switchable between 110v or 220v and draws just 2.95amps and uses 247 watts of power.
The fixture uses 12 channels of DMX to operate the entire device including 16 bit control of Pan and Tilt along with some predefined macros on board.  While the Axis does operate off DMX, the fixture comes with 3-pin XLR connectors and not the typical 5-pin, so get your turn arounds ready.
There is an optional 15 degree lens kit although nothing is said about the spread other then and LED Angle of 45 degrees.  Also, nothing has been mentioned about pricing.  To learn more about the Mega-Lite Axis Tri-LED, visit their web site at www.mega-lite.com.
Share

Comments