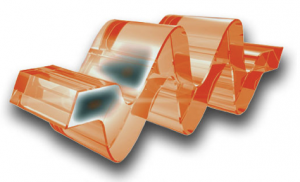 ProLight + Sound must be right around the corner, more and more product announcements are coming out of the wood work.  I just received a press release from Multiform Lighting, an LED manufacture that is distributed by Apollo Design here in the states, that they will be announcing and showing off a couple of new LED products at ProLight + Sound in Frankfurt Germany.
First up, they will be adding a new range of LED products that are aimed a the architainment market, the AmbiLED Range.
AmbiStrip -3C/M

The AmbiStrip is a medium-sized RGB LED strip light, designed to provide colour mixing outline/edge illumination to suspended ceilings, bar counters, frosted glass elements and other indirect lighting applications. Designed to be driven by a 24V constant voltage power supply like the AmbiLED APS series for control of colour and brightness they use 140 LEDs consuming 8.3W/m.
Available in lengths of 1000, 500 and 250mm to accommodate various mounting setups, the LED strips are housed in a 30mm dia PC tube with molded end caps allowing tubes to be installed end to end. The AmbiStrips can also be linked using 4 core cable and are supplied with clip-on wall holders for simple installation.
AmbiPower – APS060W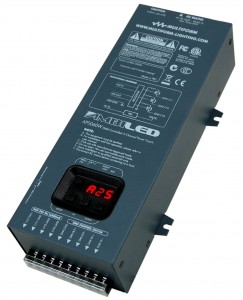 The AmbiLED range of LED ambient lighting fixtures is brought to life with power and control via the AmbiPower range of intelligent power supplies. The entry-level model APS060W combines a power supply with DMX-control for distributed RGB LED lighting systems that are centrally controlled. The wall-mount shape and terminal block connections makes this core unit the lighting installer's perfect solution. A single AmbiPower 60W unit can drive up to 7m of AmbiStrip lighting. Using 4 Channel DMX control, the unit includes 19 preset colours and 17 chases for stand alone operation and can also be used with most other 24V RGB LED lighting sources and displays.
MultiBar – LS4195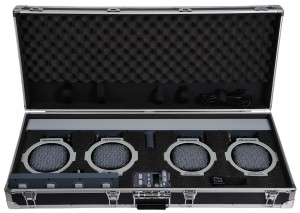 A budget priced portable LED stage lighting system for Small Bands, Dance Groups, Exhibition Displays and Mobile DJs.The MultiBar comprises 4 MultiSpot Ell RGB fixtures, mounted on a 1m. extruded aluminium cross bar housing a 16 Channel DMX controlled power supply. The sophisticated switched mode power supply has 4 Internal and 3 DMX modes allowing stand alone operation or remote control by a DMX desk.Designed to be mounted on a 35mm dia. tripod stand, or suspended from a truss or lighting bar, it has a mains input of 90-250 V 50/60 Hz and will operate in most countries of the world. The MultiBar LS4195 is supplied in a road proof flight case, with compartments for an optional LC400F footswitch and a MultiLED LC300H controller.
MultiSpot Ell LS1195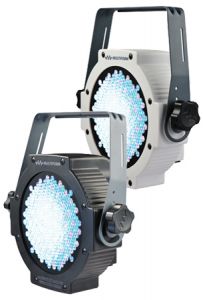 The Multispot ECO-II is a medium-power RGB LED light source with an output of 342 lumens and the successor to our proven entry-level model Multispot Eco. The upgrade includes a different R:G:B ratio for better colour mixing performance, and a switch mode power supply for improved energy saving and less heat emission, thus enhancing environmental protection. Specifically targeting fixed installations, it is available in three colour finishes – grey, black and white.
MultiSpot HP LS1009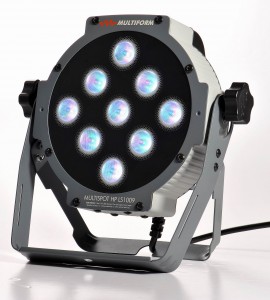 The Multispot HP is a versatile 685 lumen LED lighting fixture with a space saving shape. Neatly fitting within most box trusses, this unit becomes a quiet, bright truss warmer in addition to uplighting walls and spotlighting features. Architectural and commercial projects will benefit from the sleek design and low maintenance the MultiSpot HP offers. The use of a medium-density array of 9 x 3W MulTriCell © LED devices, which are forced-air cooled using Multiform's unique DSC technology, allows a much higher brightness and light consistency than any standard LED fixture, but provides quieter operation with less need for airflow by the temperature-controlled cooling fan.
MultiBeam HP LS1018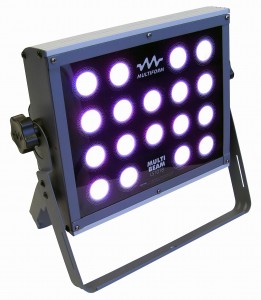 The MuliBeam HP provides twice the light output of the smaller MultiSpot HP unit, while maintaining the sleek design favored in many architectural applications. Event producers will appreciate the smooth, even colour washes the MultiBeam HP produces for uplighting walls and tents. Rugged and durable for rental and event companies, the MultiBeam HP uses 18 x 3W MuiTriCell ©LED devices to produce a uniform, fringe free colour output. Using 4 Channel DMX control, it also offers 19 preset colours and 17 chase patterns for stand alone operation.
In addition to these new products, Multiform will also have on display the MultiSpot, MultiWash, MultiFlood and MultiWall LED fixtures and the MiltiLED and MultiFoot controllers.  If you are attending ProLighting + Sound this week, stop by the Multiform stand at E04 in Hall 11.  You can read more about Multiform and their products by visiting their web site at www.multiform-lighting.com.
Share

Comments