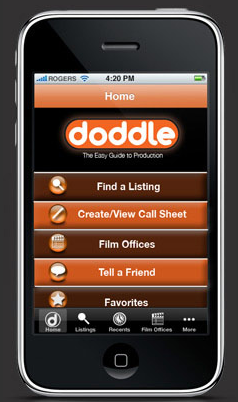 If you are in the Film, Video or TV industry, you may want to check out a new service out there, Doddleme.com. Doddle is a new resource tool for anyone within the industry.  From the website or from the Doddle iPhone app you can find vendors, crew, talent, locations and film offices around the country and around the world.
doddle is designed to revolutionize the production industry, saving professionals countless hours they now spend searching outdated and cumbersome production guides for available specialists and resources. Many film commissioners across the U.S. have already commented on how the industry has long awaited something like doddle to bring continuity to the industry and make productions easier.
Everyone listed on doddle can advertise their services to the industry at large, as well as plan and manage their own creative workforce through the creation and instant distribution of their interactive "call sheets" (a.k.a. the glue that binds the industry!).
For production virgins, call sheets are how producers plan each day or segment of a shoot, including all the necessary information for the cast and crew, such as shoot locations, applicable weather/lighting conditions, contact information for set personnel, local resources, hospitals, restaurants, and lots of other vital information. Now, production managers can doddle anywhere from their mobile device to manage all of their production needs – rather than have to stop off at an office or hotel to make a ton of calls, copies, faxes and emails.
There are two versions of the doddle app, one is a free version called Doddle.  There is also a pay version for $2.99 called Doddle Premium which is the same as the free version minus the iAds. Make sure to follow @doddleme and register an account to get listed on Doddle.
Share

Comments