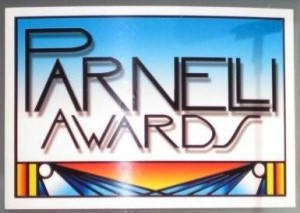 Fire up your browser of choice, nominations for the 2010 Parnelli Awards are now being accepted for companies across our industry.  A Parnelli Award is one of the most prestigious in our industry because it is a jury of our peers that decides who receives this honor.
Nominations are submitted by you and then voted upon a jury of our peers as the deserving of the award.  The nominations are broken into six categories, Visual, Sound, Video, Production Services, Production Personnel and Production Transportation and Logistics.  From there they awards are broken down by company and person of the year for each sub section.
Six nominations will be selected from each category and then put up for a vote by you! Watch FOH and PLSN magazines about when the voting will begin.  For now, get your nominations in at the Parnelli Awards website.
While you are on the Parnelli Awards website, be sure to vote for your Hometown Hero in both Lighting & Sound.  Both categories are broken down in to regions of the States.
On October 22nd, the Parnelli Awards will take place at The Rio in Las Vegas Nevada.  Yes, that is during LDI! You can reserve your seat for the Parnelli Awards Dinner right on the Parnelli Awards website, www.parnelliawards.com.
The Parnelli Awards are named after Mr. Rick "Parnelli" O'Brien for his talent as a production manager and tour manager.  He was a well respected colleague, admired professional and friend to many industry veterans. Rick passed away from cancer in late 2000.
Share

Comments