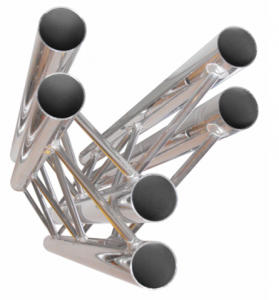 Optikinetics out of Ashland Virginia recently announced a new series of light weight truss, the OPTI V-Tuss.  The V-Truss is designed for trade shows, corporate road shows, any one looking for a light weight and portable trussing system.  What stands out about the V-Tuss is it's ability to stack together cutting down on freight and storage charges due to the compact design.
Even with the compact and stackable design, strength in the truss has not been sacrificed.  The OPTI V-Truss is capable of handling large graphics, accent and spot lights and even flat-screen monitors.
The OPTI V-Truss is available in 1″ and 2″ tubes to fit your specific needs and is also available in all the standard truss lengths, corner and T blocks to build the perfect truss system for your needs.  Custom design and configurations are available with Optikinetics experienced engineers and designers.
For more information on the OPTI V-Truss, visit Optikinetics web site at www.opti-kinetics.com.
Share

Comments