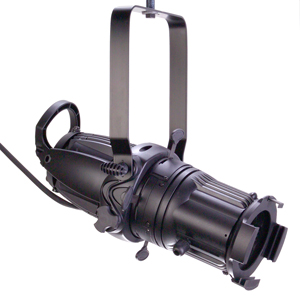 Take a look at Philips Strand latest fixture, the Leko Lite.  No, no, I mean it, take a REALLY close look at it.  Remind you of a fixture that recently went away? Maybe the Strand SL is a phoenix, it died and has been reborn as the Leko Lite, they do share a bunch of the same features and design aspects. We'll come back to that…
The Leko Lite offers a fixed and variable beam angle fixture line up.  For the fixed beam, there is the 5, 10, 19, 26, 36 & 50.  In the variable or zoom fixtures, there is the 15 to 32 & the 23 to 50. As for lamps, the Leko Lite uses Philips Hi-Brite, FastFit Lamps at 575w, 750w in 115v and 800w in 230v. The FastFit Lamp socket is a neat feature, no more wrestling to get the burner house out the back. Although I am a little curious about how bench focusing works.
One thing that I loved from the SL line up was the 360 degree body rotation at the yoke.  The Leko Lite carries that feature forward.  Along with the ability to accept and change lens tubes with the SL line up of fixtures. I guess the Leko Lite really is the SL reborn.
For more information on the Philips Strand Leko Lite, visit their website at www.strandlighting.com.
Share

Comments