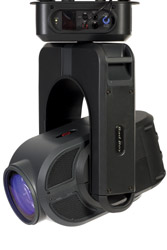 At the PLASA show later early next week, PRG, Production Resource Group, will be re-introducing their Bad Boy moving light with CMY mixing. If you remember correctly, the "orginial" Bad Boy used sets of color wheels to mix and combine colors.  After listening to designers and technicians, PRG has re-designed the moving light to include CMY mixing.
The Bad Boy still is capable of producing a powerful 48,000 lumens, the Bad Boy CMY couples its high-definition optics with a Philips MSR Gold FastFit lamp that can be set to levels 900W, 1,200W, or 1,400W. Boasting an optical efficiency of over 40%, Bad Boy CMY doubles standard efficiencies, marrying both brightness and green product ideals without compromise.
No additional information has been made available about the "new" Bad Boy with CMY mixing.  If you are attending the PLASA show next week in London, be sure to stop by and check out the all new PRG Bad Boy.
Share

Comments