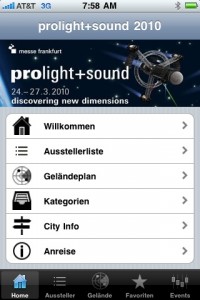 All month long I have been writing about new and exciting things that are being announced and shown at the ProLight + Sound Show in Frankfurt Germany this week.  Well, it looks like ProLight + Sound has something to announce themselves!
On this, the first day of ProLight + Sound, Messe Frankfurt just released their iPhone app of the show! Seems like every trades how these days is coming out with their own iPhone app to help attendees navigate and find information about the show and I love it!  The app gives attendees the ability to locate an exhibitor by searching for their name or by booth location.  The app even has a Gelandeplan, or Ground Plan of the show to help navigate the large show floor.
Just like any trade show app should have, the ProLight + Sound app list events and sessions that are being offered at the show and gives the info about it and location. Find something you like or want to attend or see?  Add it to your Favoriten or Favorite's right with in the app for quick reference!
The app is a great alternative to the traditional printed trade show guide as it is one less thing to carry, plus the app is searchable.  Unlike a printed trade show guide where you have to hut and search for what you are looking for.
ProLight + Sound did a fantastic job with the app and makes me wish I was at the show even more now!  The app is a FREE download from all countries of the iTunes App Store. If you are at the show, be sure to head over to the App Store on your iPhone or iPod Touch and download the FREE ProLight + Sound app!
Share

Comments