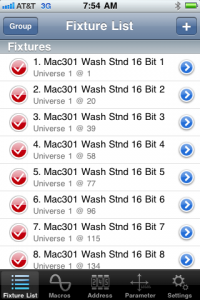 Back towards the end of November, a new lighting app came out in iTunes for Bart van Stiphout called Fixture Tester.  Bart was kind enough to provide a review copy of the app for me to write a review of the app.  But what is Fixture Tester?
The Fixture Tester App is exactly as it sounds, a way to test moving lights all from your favorite iOS device.  Fixture Tester gives us the ability to trouble shoot and test a fixture any where with in range of a WiFi access point that is connected to the rig.  The app uses Art-Net to send signal to the fixtures.
With a selected fixture that you want to test, Fixture Tester offers the ability to run simple macros such as lamping on a fixture, test whether a fixture is patch and address correctly and run the parameters of the fixture through a simple set of test.
You may begin to ask yourself, what is the point of such an app when most well known console manufactures and other iOS apps out there offer the same sort of testing and diagnosis of our rig. Fixture Tester is an independent app thats sole purpose is to test and trouble shoot a fixture on a rig.  The app can work in conjunction with almost any lighting desk out there.  While board op is writing cues or setting up the desk, an electrician can run through the entire rig and check to make sure each device is operating correctly.  If a fixture is acting up, the electrician can get to that fixture, still connected to the rig via WiFi and use Fixture Tester to trouble shoot it, all while independent of the desk.
Another use for the Fixture Tester App could be rental houses.  When ever a fixture comes in our goes out for rental, each fixture needs to be checked and made sure it operates correctly.  The Fixture Tester App could be a perfect fix for that application by setting up a simple WiFi access point with a single Art-Net translator, and BAM, the service techs can quickly and easily check fixtures with the app rather then using desk from rental stock.
Something to be aware of is that the Fixture Tester App speaks Art-net.  That means that our rig either must be speaking Art-Net or have an Art-Net translator some where in the rig to function correctly.  Not a huge problem, just something to think about when trying to implement Fixture Tester into our rigs.
As for fixture profiles or templates, the road maps of how a fixtures DMX address are assigned, the Fixture Tester app comes filled with a wide variety of manufactures and fixture types already available with in the app.  If a particular fixture isn't available, not to fear, the developer has created a programed called FileUploader that you can create dmXLAN patchfiles and upload to the app via the settings tab.  FileUploader is a free download right from the developers website.
The Fixture Tester app is a universal app meaning that it will run on all three iOS devices, the iPhone, iPod Touch and the iPad. Running $24.99 for the app seems a little up there in cost, but with any app, if it fits your needs and makes our lives easier, $24.99 is a small price to pay when time and money are saved while being on site. The app does exactly as described and can be a very useful and powerful tool in our ever growing digital tool box. Visit the iTunes app store and purchase your copy of the Fixture Tester App.
Have you used the Fixture Tester App?  What did you think of this review?  Please share your comments, reviews and thoughts about the app below in the comment section of this review.
Share

Comments