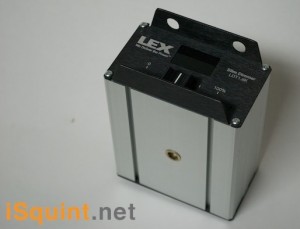 Back in October, I mentioned that Lex Products announced and released a new portable dimmer, the 1.8kw Slim Dimmer. I recently had a chance to do a review of the Slim Dimmer. But before I get into the meat of the review, lets take a look at some of the details and specifications of the Slim Dimmer from Lex Products.
The Slim Dimmer from Lex Products is an 1800 Watt, 95 – 130VAC electronic dimmer with NEMA 5-15 (Edison) connectors. It is a compact, rugged, unfiltered dimmer with on-board fader control and digital intensity display.
Some features of the Slim Dimmer:
Extremely compact
Large, professional quality fader
Accurate digital control and display
Durable metal construction
Easily hangable with optional C-clamp
6" L x 4.15" W x 2.5" H
1.6 lb
Who is the Slim Dimmer Designed for
From Lex Product's website and cut sheets on the Slim Dimmer, they are saying that the dimmer is ideal for use in the Motion Picture, Television Production and Retail Displays.  I will not disagree there.  The simmer dimmer is perfect for those markets.  But I don't think it it is limited to those markets which I am sure Lex Products will agree with me on.  I can see the Slim Dimmer having a place in the theatrical and live event markets as well. With the Slim Dimmers small and compact design, it can fit almost anywhere a dimmer might be useful or required.
Design and Construction
Talk about a one trick pony, the Slim Dimmer certainly falls under that category, but does that tick quick well.  With a max load of 1.8kw, there is plenty of room on the dimmer to load up an assortment of lights as long as the total load does not exceed 1.8kw.  Considering that most portable lights used in the TV/Film and production world are max 1K, there is still plenty of room to add lower wattage fixtures. It is important to note, since it is mentioned directly on the dimmer itself, is that the Slim Dimmer can only operate tungsten light sources, so no dimming HMI or Metal Halide sources.
The overall construction and size of the Slim Dimmer says it right in the products name.  It is Slim at only 6″ long by 4.15″ wide and a height of 2.5″ and only weighing 1.6lbs. The dimmer is made out of aluminum with small heat sinks designed into the case on the top and bottom to help cool the dimmer as there is no fan.  I ran a 1kw and a 650w on the Slim Dimmer at once and even though the case of the dimmer gives a warning that the case may get extremely warm, running the fixtures at both 85% and 100% for over an hour at each level, the dimmer was warm to the touch, but not requiring gloves.  It actually felt nice to pick up since my hands were cold from the winter weather.
The Slim Dimmer features a 15amp, push to reset breaker to help protect not only your lighting fixtures, but also the dimmer it's self. For power into and out of the dimmer, there are 15amp edison connectors for each.  The power outlet is a flanged inlet that is large enough to fit almost any extension cable connector on the market. Now, in order to dim the fixtures plugged into the dimmer, there is a large slide fader on the front of the dimmer from 0% to 100%.  While there are markings on the case for 0%, 50% and 100%, and then a couple of small ticks in between, to get an accurate dimmer level, Lex included a digital read out of the current output level above the slide fader. In order to help protect the slide fader from getting accidentally nudged or broken, a top and bottom "wing" extend off the top and bottom of the Slim Dimmer, a nice safety feature.
The last thing I wanted to mention about the construction of the Slim Dimmer is Lex including a 1/4″ 20 screw terminal on the bottom of the dimmer.  This makes it easy for a grip to add a baby pin stud to the bottom and mafer clamp it to a c-stand or light stand to keep it off the floor and out of harms way from being kicked or stepped on.
Conclusion
If you are looking for a pretty powerful, silent portable dimmer, look no further, the Lex Product Slim Dimmer will work quite well for you. The dimmer can easily be added to any portable lighting kit as it takes up very little space and doesn't require any additional cables then what you already have in your kit. With a retail price of just under $400.00USD, it might not be a bad investment.
I have heard mumblings Lex Product extending the Slim Dimmer product line to include DMX control of the dimmer.  This will make the Slim Dimmer more appealing to the theatrical and live event markets.  A time frame on this new version of the Slim Dimmer has not been laid out, but I am predicting a 2010 product announcement.
What to learn more or purchase the Lex Product Slim Dimmer, visit their website at www.lexproducts.com.
What Do You Think?
This this review is useful?  Want to say something about the Slim Dimmer?  I would love to hear your thoughts in the comment section of this review.
Review Photos
Share

Comments