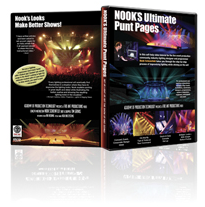 A couple months before LDI this year, the Academy of Production Technology announced the arrival of their latest training tool, Nook's Ultimate Punt Pages DVD.  No, it is not a training DVD for football kickers on how to punt the ball correctly, that is just silly.  Punting is the US term for running a lighting desk on the fly.  Our European brethren know it better as busking.
Richard "Nook" Schoenfeld is a staple in the entertainment lighting industry and is well know for his programming skills and experience running some rather large shows. In addition his programming wizardry, Mr. Schoenfeld also has a monthly column that he writes for PLSN Magazine, LD-At-Large.  It is here that Mr. Schoenfeld imparts advice, experience and his strong opinions about the lighting design field.  When ever PLSN lands in my mail box, Mr. Schoenfeld article is one of the two articles I read first, as I am always amused and left with valuable information and some well appointed humor.
It is no wonder that Mr. Cadena, the founder of the Academy of Production Technology approached Mr. Schoenfeld to produce a training video on moving lighting controls and playback.  Mr. Schoenfeld brings his experience and knowledge of moving lights and live event programming to the DVD with well though out plans of execution and console layout.
Who is it for
The training DVD does have some "prerequisites" before jumping into the DVD.  Before trying to keep up with the training, it is beast to have a basic understanding of how different types of moving lights work and function.  It is also best to have a fair understanding of how a modern lighting desk functions, interacts with moving lights, multiple playbacks and of course tracking.  From there, following along with Mr. Schoenfeld with or with out a desk in front of you is fairly easy to keep up.
What you can expect
If you come from a theatrical programming background, live event or punting/busking style playback might not be the easiest to grasp at first.  In the theatrical world we are thought that everything has a time and must go at a certain time and be repeatable night after night with like or no difference. In the concert/live event world… timing… yeah, not so much.  Things are happening quick, real quick.  Solos can go on and on, or maybe just a couple of seconds.  So running the desked based on timing just will not work, in steps punting/busking.
Mr. Schoenfeld walks you through his methods of setting up a desk for punting/busking.  As a programmer, I found that I already setup my desk for this style of playback very similarly to Mr. Schoenfeld. But there where some very pleasent surprises and interesting concepts that made me stop and think… "I'll have to steal that".  That of course is a joke, stealing isn't very nice. But that is the point of the DVD.  Take new ideas, use them, don't use them, make your own style and build from there. Mr. Schoenfeld presents a fairly clear road map for successful punting/busking playback session.
Conclusion
Mr. Schoenfeld's experience and knowledge really shows in the DVD and is presented clearly and easy to understand.  Hey, if he goes to fast, pause, rewind and repeat as many times as you like, it's a DVD!  It's like having Mr. Schoenfeld at your finger tips when ever you need him! I would recommend this training DVD for anyone that has the grasp of fixtures and control, but needs a course on live playback.
You can purchase your copy of Nook's Ultimate Punt Pages from the Academy of Production Technology website, productionseminars.webs.com for $59.95.  If you still have a doubt in your mind or need a little more convincing, The Academy of Production Technology was kind enough to allow me to provide you with a sampling of the training DVD.  Some times, seeing is believing.
Share

Comments