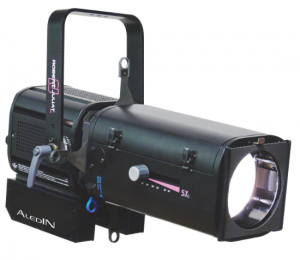 Remember that "project" Robert Juliat showed off at LDI in a back room under special invite?  Looks like the "project" has been turned into a final product and is getting ready to ship! Here is more from the Press Release:
The Aledin™ is the first product of its type to achieve significant output AND superlative framing and projection ability from an extremely low-powered LED light source.
Aledin Features:
Very low power consumption (85W) for dramatic energy conservation
Up to 30 units can be powered from one domestic power outlet
Extra long LED life for reduced maintenance
Low heat output preserves colour media
Enables use of metal, glass or plastic gobo materials
Built-in framing shutters (up to eight) with locking system
Available in 3500°K and 5800ºK colour temperatures
Colour temperature remains constant during dimming
Built-in electronic flicker-free dimmable PSU with direct DMX input (No external dimmer required)
Reduced HVAC demand
Environmentally sensitive – No UV or IR Emissions
Based around Robert Juliat's 600SX Series profile, the Aledin benefits from the famed double condenser optical system and retains all the features of a standard Robert Juliat profile. Aledin's low power consumption is of value where power availability is limited, whilst the choice of colour temperatures make it equally at home in a theatre or opera house lighting rig, whether tungsten or discharge.  Aledin™ is also perfect for environments such as historic theatres or museums, since there are no UV or IR emissions to damage sensitive fabrics or exhibits.
The Aledin™ LED Profile Spotlight is available in three zoom ranges and can also be purchased as a retrofit kit for Robert Juliat 600 Series Tungsten, the 400 Series Quincy and the Figaro luminaires. Orders for Aledin are now being accepted for delivery in Summer 2010.
More information on Robert Juliat can be found at www.robertjuliat.com and www.robertjuliatamerica.com.   Pricing has not been announced or published, contact your local Robert Juliat Dealer for pricing and additional information.
UPDATE: Retail price $ 2,995.00
MORE Updates: Here is a little more about the two versions of the Aledin.
3800k – Lumen output: 3000 & CRI of 82
5800k – Lumen output: 4500 & CRI of 65
Share

Comments