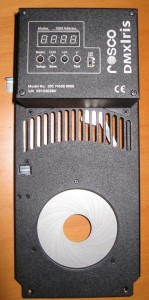 A long LONG time ago at LDI last year, I got a sneak peak at what Rosco Labs was up to in the labs.  Rosco recently announced their new DMX Iris.  Since then, Rosco went back to the drawling board and made a couple of changes and improvements to the DMX Iris.
The New design still features some of the unique and original ideas and functions found on the first revision of the DMX Iris, such as the 24 leaf design for cleaner apertures, the integrated power supply, reversible values, test button, manual operation knob and the Friction Lock & Plunger.
The new design went away from turn pots for DMX addressing.  If you have ever used turn pots to address a fixture, you know how hard it can be and also how quickly you can strip the pot.  Rosco changed the original design from turn pots to a digital display for addressing. Now the DMX Iris has four push buttons to address the Iris, and to change modes and setup of the Iris.  Since the DMX Iris now features a digital addressing system, Rosco added in another channel of control for speed control of the Iris.
Another neat feature is the LED Dim switch next to the DMX Address buttons.  You can change the brightness of the DMX address LEDs.  But can you turn them off, we'll have to see.
For more information and pricing on the Rosco DMX Iris, visit www.rosco.com or contact your local Rosco Dealer.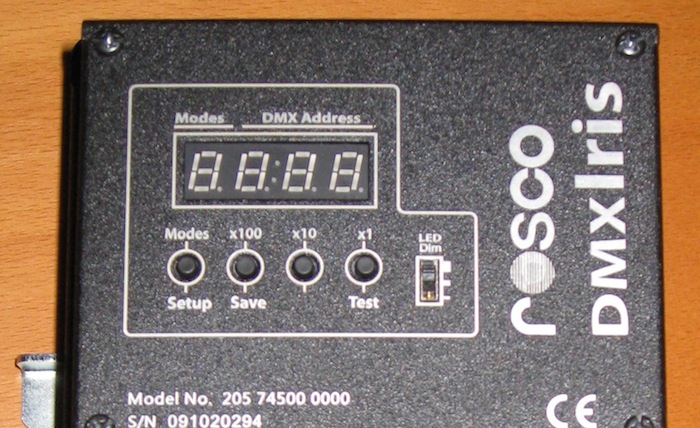 Share

Comments