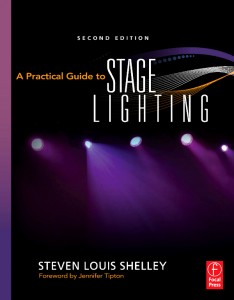 Looks like Amazon and Barns and Noble are having a pricing war over Steve Shelly's latest book, a Practical Guide to Stage Lighting, Second Edition.  Both online book stores are selling the book at 45% off the cover price of $49.95 at $27.25!
If you didn't know, here is a little background on Mr. Shelly's book from Focal Press, the publisher. Construct and Implement Your Own Lighting Designs with the most trusted guide to stage lighting!
An entertaining and educational read, author Steven Louis Shelley draws from his 35+ years of diverse experience to bring you the step-by-step technical tools for getting the job done along with real-life examples of projects from start to finish. Learn why some techniques are successful while others fail with 'Shelley's Notes' and 'Shelley's Soapbox,' all with a humor that guides you through complex problems and concepts.
You can read the review of Mr. Shelly's book here on iSquint.net. Head over to either amazon.com or barnesandnoble.com to purchase your copy of Mr. Shelly's book with these amazing savings.
Share

Comments