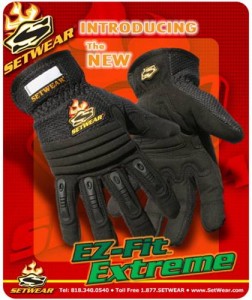 Starting sometime in July 2010, Setwear will be releasing their latest glove, the EZ-Fit EXTREME. I made that bolder to help carry the weight behind it.  It makes me want to scream it each time I say it, well, at least in my head anyway.
The EZ-Fit EXTREME are new and improved version of the Setwear EZ-Fit 2 gloves. Some of the new features include:
Increased form fitting padded spandex knuckle paneling
4 mil gel foam padded synthetic leather palm
thick rubber exterior finger guards
stretchable elastic cuff design
Just like almost all of Setwear's gloves, the EX-Fit EXTREME comes in X-small to XX-Large.  If you are like @UKSLC and can't get to a show room near you to try them on, use Setwear's online glover chart. The retail price of the new glove is $30.95 USD.  Call your local dealer or find a Setwear Dealer near you to order a pair up. Learn more about Setwear products by visiting their web site at www.setwear.com.
Share

Comments