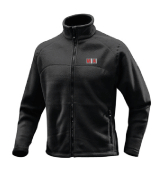 Are you a grandMA user/fan?  Why not show your love off for the company that makes the grandMA, MA Lighting out of Germany.  I just learned of MA's newest website, www.ma-merchandising.com.
On the site, you can purchase a number of articles of clothing with the MA Lighting Logo on it.  Anything from Polos, Fleece, Caps and Jackets.  They also have a workwear section with tool bags, gloves and even some spiffy work pants!
The thing I have my eye on is the MA Waterproof Fleece pictured left at 42,90 € or about $70 USD.  All of these items ship from over seas to the US and does not include shipping or tax.
Share

Comments