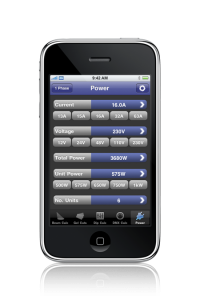 I just received a note from Daniel Murfin the iPhone developer and creator of ShowTool LD iPhone app, that he has just released an update to the app to version 2.0.
The app has been redesigned from the ground up for speed and ease of use and sports a brand new user interface making it easier and faster to access the various features.

A new power calculator has been added to the suite providing quick and easy calculations for a variety of needs. In addition, the new preferences panel provides the user with further customizations.

An updated lantern database provides additional fixtures for the gel cutting calculation tool.

All features provide full metric and imperial options as well as providing international number formatting support. Language localization architecture is now built in and new languages will be added soon. More great features and utilities planned, with free updates for all users.
ShowTool LD 2.0 is available through the iTunes store at $4.99USD.  Current owners of the app can download the software for free.  For more information visit Daniel's website at www.dsmurfin.co.uk.  To purchase or update to ShowTool LD version 2.0, visit the iTunes App Store.
Share

Comments