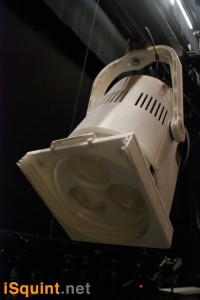 When you reach the Broadway level of being a lighting designer, you can pretty much get what ever you want. I am not talking about fame and fourtune but new fixtures and technologies. Such as the case for Don Holder at the Broadway Lighting Master Classes this year. Mr. Holder put on a great session about LEDs vs Tungstens. Since Mr. Holder is a well respected and fantastic lighting designer, he has access to a load of products before they are even announced.
Such as the case with the sneak peak that we got of Philips/Selecon upcoming LED Fresnel, the PL-3. Mr. Holder was able to get not just one of these prototype fixtures, but two for his session. Yeah, I was a little jealous! ;) But enough about that, what about the PL-3.
The PL-3 uses three of the LED engines from the Vari-lite VLX fixture. That means that the PL-3 is a 3 engine, RGBW mixer at 90 watts per engine. Just like the VLX, the PL-3 color mixing happens behind the lens to give an even color out the front of the fixture. Speaking of light coming out the front, the PL-3 is putting out 8200 Lumens of LED goodness with a zoom range of 5 to 50 degree spread.
The entire fixture runs off just 320 watts of power and produces as much light as a 1000 watt tungsten fresnel. The PL-3 is still in the process of being developed but is rumored to have WDMX, WiFi, Network and DMX protocols included right on the fixture. If you look closely, you may notice the fixture housing and yoke are made of plastic. Since the fixtures runs a heck of a lot cooler then a typical tungsten fresnel of that size, Philips/Selecon was able to make the PL-3 even lighter by using a plastic composite.
The PL-3 is still not ready for the big time and like I mentioned, still in development so no release date has been announced yet along with pricing. I have heard hints of another version of the PL-3 is in the works, the PL-5. I'll let you take a guess on what that means.
Take a look at some of the photos I was able to sneak in at the BLMC2010.
Share

Comments