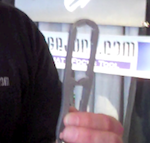 It is exactly midnight here on the right coast.  That means that you have just 12 hours, yes 12 hours to enter your submission to the Flat Ultimate Focus Tool Contest from StageJunk.com.
The rules are simple.  Send me a photo of your current tool, the one you want to replace with the Flat Ultimate Focus Tool. Make it creative, make it unique!  Show me your tool and you just might will.
Now I have to warn you, I have already received a bunch of submission and these are crazy awesome!  That made me laugh so hard I couldn't breath.  I just wanted to let you know what you are up against.
Hurry up, the clock is ticking, photos sent after noon EST will not be accepted. Send your photos to info@isquint.net.
thanks and Break-a-Leg… not really though, that would hurt.
Share

Comments