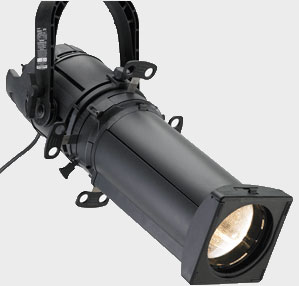 Strand Selecon recently announced the arrival of the SPX Fixed Beam fixtures. The goal of the SPX series of fixtures is to help round out the entire line of Strand Selecon fixture range including the Pacific and Acclaim series of lights.
The SPX Series of fixtures use 220-240v lamps, the 600w GKV, the 600w GLB and the 800w GKV lamps.  Currently, I have not found any documentation or cross reference to a 110-120v lamp for the SPX fixture.  At 800w, Strand Selecon is stating that the SPX fixtures deliver up to 63% more light on stage compared to current industry benchmarks. The combination of this optical reflector design with premium optical lenses (supplied as standard) provides a crisp white light with no pinkish hues or other colour cast delivering both high definition pattern projection as well as the color results you deserve from your filter selections.
The Strand Selecon SPX is available in 14°, 19°, 26°, 36° and 50° lens which are interchangeable.  Also available are two zoom fixtures, a 15°-30° & 25°-50° spread.
To learn more about the Strand Selecon SPX series of fixtures and all its features, visit the Strand Selecon web site at www.seleconlight.com.
Share

Comments