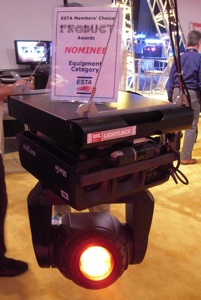 A couple of weeks before 2009 ended, I put a poll up to let the lighting industry choose the Most Innovative Lighting Product introduced in 2009. Most times when it comes to determining these types of awards or credits, there are a couple of people in the back room picking out the nominee's and then the winner. My goal was to change that.
I asked you, the lighting community at large to weight in and see which product you thought was the most innovative lighting product of 2009. And boy did you guy respond! With over 250 entries in and 10 product to choose from, there was a clear front runner from the beginning.
While I only listed 10 products, I mentioned that if you felt there was a product that deserved to be nominated to please list it in the comments section.  There were only a couple of products added and some really neat ones that I didn't even know about which I'll get to later.
With out further ado, the winner of the 2009 Most Innovative Lighting Product chosen by you is…
Congratulations to RSC and Total Structures, the US distributor of the LightLock. Not only did the RSC LightLock win the 2009 Most Innovative Lighting Product of the year, but also the Best Debuting Product Award in the Rigging and Staging category at LDI 2009. On top of that, when the RSC LightLock was first shown at the 2008 PLASA Show in a prototype form, the RSC LightLock won the only PLASA Gold Award that year.
Share

Comments