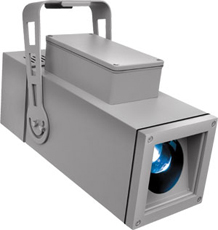 Time Square Lighting has just announced their latest LED architectural fixture, the GOBO80L, or Outdoor LED Gobo Projector.
Utilizing a single white LED, the Gobo80L will reach your target audience in an environmentally friendly way, indoors or outdoors. The 80W LED light source is capable of projecting up to 50 feet.
The manual optics system allows for linear zoom and focus adjustment. The projection angle can be adjusted between 19º and 35º. Under normal conditions, the LED light source is projected to last 100,000 hours. The LED light source produces no UV or IR and illuminates virtually instantly (100 ns).
Here are some specs on the GOBO80L
One high-power, 80W, white LED
IP65 aluminium body, IP55 cooling system
Long-life, 100,000 hour LED
Scratch resistant textured polyester grey finish, protected against UV deterioration and general corrosion.
Shock-resistant front tempered glass
-4ºF to 104ºF external operating limits
Adjustable mounting yoke
90-250W 50/60Hz power supply (160W total power consumption)
Learn more about the GOBO80L from Time Square Lighting by visiting their website at www.tslight.com.
Share

Comments