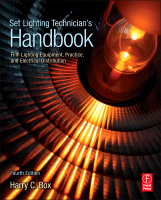 Focal Press is preparing to release their latest book on lighting, Set Lighting Technician's Handbook, Fourth Edition.  The title may throw you off a bit.  The book is actually geared towards the film  & Video guys.  Here's a brief on the book.
The Set Lighting Technician's Handbook focuses on what is important when working on-set: trouble-shooting, teamwork, set protocol, and safety. It describes tricks and techniques for operating a vast array of lighting equipment including LEDs, xenons, camera synchronous strobes, black lights, underwater units, lighting effects units, and many others. Since its first edition, this handy on-set reference continues to be widely adopted as a training and reference manual by union training programs as well as top university film production programs.
New to the fourth edition:
More coverage of the aesthetics of lighting
Detailed information on LED technology and gear
Material is harmonized with industry safety and skills training curriculum
More coverage than ever before about setting up and running DMX512 networks and DMX512 enabled devices, including wireless DMX512 networks
Completely revised and updated sections of HMIs, tungsten light fixtures, and fluorescent technologies
The book is already on sale over at Amazon.com for $33.71, but the book will not begin to ship until August 18th. Head over to FocalPress.com to read more about Set Lighting Technician's Handbook, Four Edition.
Share

Comments