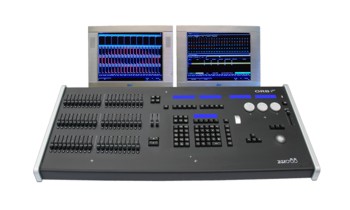 Just this morning, I mentioned that Zero 88 was planning on announcing a new lighting desk at the ABTT show.  Looks like the OFFICIAL announcement was just made on their web site.  While the press release mentions everything from this morning, the ORB's official web site, www.orbdesk.com has a load more information about the ORB XF.
Right off the bat, the most noticeable difference is the slider count.  The original ORB desk offered 10 playbacks with multiple pages, while the ORB XF offers 60 multi functional faders. ALMOST everything underneath the hood of the ORB XF is similar to it's big brother, the original ORB.  Such as 2048 control channels across 4 universes of DMX, 1000 cue stacks with 1000 cues per stack, 2 playback master faders and tons more.  I'll let you read more about all the specifications about the ORB XF on it specifications page.
A retail price has not yet been mentioned about the new ORB FX or when it will be released to the public, but I am sure if you are heading to the ABTT show in London England this week, it might just make an appearance. Hopefully the ORB XF will make an appearance in Las Vagas in October for LDI as well.
Learn more about the ORB Series of control desk from Zero 88 by visiting their web site at www.orbdesk.com or www.zero88.com.
Share

Comments