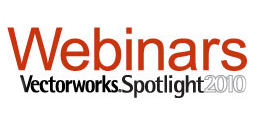 Do you do you lighting plot in Vectorworks?  What about all of your paperwork, do you use Lightwright? Did you know that the latest versions of Vectorworks, (2010) and Lightwright, (5) work and play together?
On Tuesday, May 25, 2010 at 2pm EST, Vectorworks will be hosting a FREE webinar on the very subject. Here is more information from the Press Release:
Join industry experts Kevin Linzey and John McKernon in a free, hour-long, online presentation demonstrating how to easily exchange data between Vectorworks Spotlight® and Lightwright™ to develop further project organization and increase productivity.
Learning Objectives:
Multiple ways to export and import data between
Spotlight and Lightwright
Modifying the light plot in Spotlight and Lightwright
Common technology issues and how to troubleshoot
Register for the webinar by visiting the goto meeting registration page.  You can learn more about Vectorworks Spotlight by visiting www.nemetschek.net as well as learn more about Lightwright by visiting www.mckernon.com.
Share

Comments